The latest product of Exzy, one of the most incredible application for the event at Siam Paragon held by Major Cineplex Group, one of Thailand's largest cinema operators who is joining forces with Bangkok Airways to launch three high-class cinemas at Paragon Cineplex called "Bangkok Airways Blue Ribbon Screens"
In the event, all guests and the press were amazed and stunned with Exzy application for Exzy Season Touch Table, Samsung Sur40 with Microsoft Pixel-Sense technology. With Exzy wonderful application, Bangkok Airway's customers can see all routes and destinations of Bangkok Airway in the beautiful interactive route maps presenting each destination in beautiful pictures and meaningful captions. More exciting, Major Cineplex's guests can also see the trailers of coming attractions in the newly digital content with nice animation and graphics.
Season Touch Application, it's where it brings together experience, design, technology and people.
The VDO clip of Exzy application for "Bangkok Airways Blue Ribbon Screens" can be watched below;
Place each photo frame on the table, then each photo of Bangkok Airway's destination and meaningful captions would appear.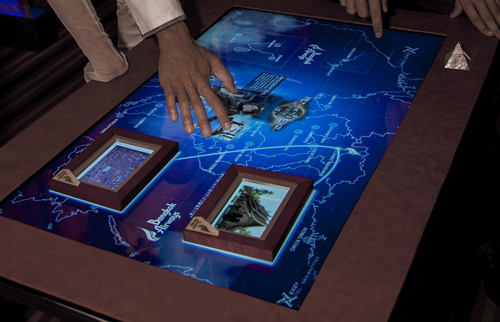 Place each crystal prism on the table, each coming attraction's movie information and trailer would appear with unique graphic animation.